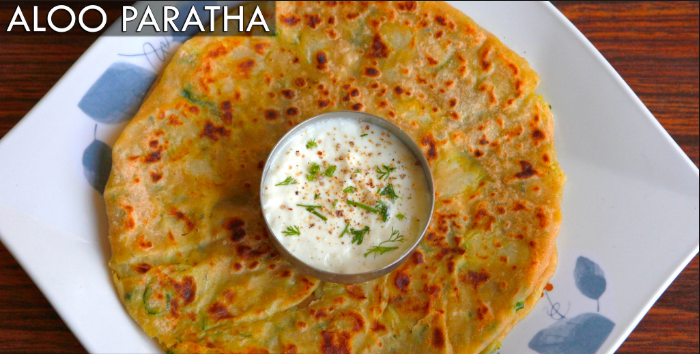 Aloo paratha
Preparation time 20 min. Cooking
time 30 min. Total
time 50 min.Total
Calories 200-250 kcal. Fat
content 9 g. – 14 %
Can also be called stuffed potato bread
It is one of the most popular dishes in Indian subcontinent.
It is usually had for breakfast and can also had for main course.
All kind of personalities can used this recipes. It is always better to have aloo paratha for breakfast or for lunch.
1 loaf.
Ingredients:
3-5 medium potatoes/300-400 gm.
1-2 green chillies chopped.
¼ tbsp. kashmari red chilli powder.
¼ tbsp. garam masala powder.
½ tbsp. amchur powder/dry raw mango powder.
2-3 tbsp. /10-15 gm. finely chopped coriander leaves.
5 gm.– Himalayan salt as required.
Oil or ghee/ 10-20 gm. as required for roasting paratha.
Making of aloo paratha:
First boil potatoes in pressure cooker.
Peel and smash potato with smasher.
Add chopped green chillies.
Add 4 gm. garam masala
Add 4 gm. red chilli powder.
Add dry mango powder-3 gm.
Salt 4-5 gm. as required to the smashed potatoes.
Mix all the spices and green chillies with smashed potatoes very well.
Check taste of mixture and add salt (Himalayan) if required.
Add coriander fresh leaves as required.
Method of making paratha
Pinch a medium ball of dough.
Roll it on or hands and flatten it with a roti roller. (INDIAN)
Dust the dough with some flour and roll the dough in to 5-5.5 inches circle.
Next place the above potato stuffing in to the circle of rolled dough leaving a space of 2.5 inches in the edges and start to bring the edges of the circle together so that the smashed potato mixture is enclosed in to the dough.
After joining the edges roll the dough with some flour to make flat paratha to a spread of 7-8 inches.
Frying aloo paratha
Hot tava is used .
It is cooked on low flame.
It can be cooked with butter or oil.
It should be soft inside and crisp outside.
Flip the paratha when base is cooked, spread ghee/oil as per need.
Cook till crisp brown spots occur.
Serve with curd, pickles, and onions
2018-01-12