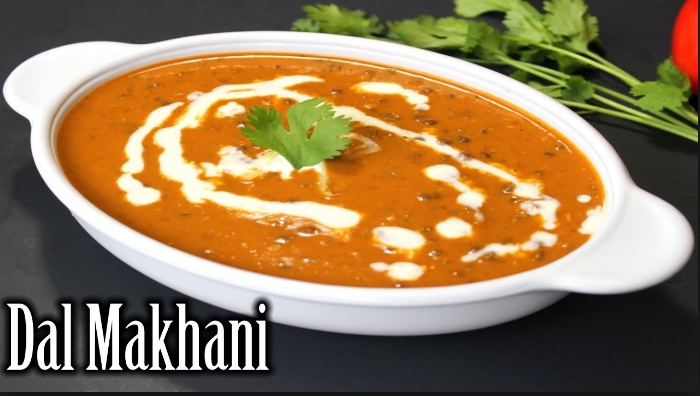 Kali dal (dal Makhani)
Preparation time 8 hrs. Cooking
time 1 hr. Total
Time 9 hrs.Calories per serving 350 kcal Total
Fat – 19 gm.
Dal Makhani is a popular dish from north india where people prefers less spicy food. It is called makhani because it contains a lot of butter or cream.
It is usually good for people, who have good agni i.e for pitta. It also good for vata praktuti because of high nutritional value .
Its basic ingredients are black lentils (urad) & red kidney beans called rajama Butter and cream
4 dishes.
Main ingredients:
140 gm. Urad dal (black lentils)
40gm. Rajama (Red kidney beans)
750 ml of water for pressure cooking.
50 gm. onion finely chopped.
1-2 green chilies finely chopped.
2 tbsp.. OR 10 gm. ginger garlic pest.
200 gm. tomato or 1 cup tomato purée.
4gms. Cumin seed
2-3 cloves
2-3 cardamoms
1 black cardamoms
1 small Indian bay leaf
3gm red chilli powder
2-3 pinches of nutmeg powder
1 cup of water to mix the above spices.
Use ¼ cup of cream.
1tbsp.. cream to garnish
5gms crushed kasuri methi(dry fenugreek leaves)
15-20 gm. butter unsalted
Salt was required about 5 gm.
How to make – Dal makkani :
Soak both urad and rajama overnight in enough water
Drain them well.
Wash the both properly.
After washing drain and add the both to presser cooker.
Add 3 cups of water and stir well.
Pressure cook for 18-20 whistles till both become soft and add a cup of water after that & again give 4-5 whistles to melt the urad dal or black lentils.
Spices and herbs to be mixed in the blender:
Take chopped tomatoes (2 large or 200 gm.)
Blend puree or take 1 cup tomato puree
Next step take a pan and heat butter (non salted) around 3 tbsp.. till it melts.
Add Cummins seeds half tbsp..
2-3 cloves.
2-3 cardamom
1 black cardamom
1cinnamon
1 bay leaf Indian (tejpatta)
Fried till aroma comes out.
Then add ½ cup onion chopped.
Stir on low flame till golden brown.
Add – 2tbsp. ginger garlic paste – stir again.
Add – 1 tbsp. green chopped chilli stir for 1min.
Then Add – tomato puree and stir again.
Add – ½ tbsp. Or 3 gm. Red chili powder.
Add – 2-3 pinches nutmeg powder.
Stir very well and sauté this mixture on low to medium flame till you see fat releasing on the sides.
Keep 2-3 min. of low flame.
Then add cook Dal and Rajama with the remaining stock of water to the above mixture and stir well on low flame.
Keep stirring the bottom so that the dal mixture doesn't burn.
Once the dal starts to thicken add salt around 4-5 gm. or as required.
And keep stirring.
When the gravy has thicken enough add ¼ cup cream to the above mixture.
Stir till they mix.
Now add – ¼ tbsp.. crushed kasuri methi (fenu greek)
Serve with chopped coriander leafs on top.
Served with nan, roti, paratha , kulcha , phulcas, and jeera rice etc.
2018-01-12