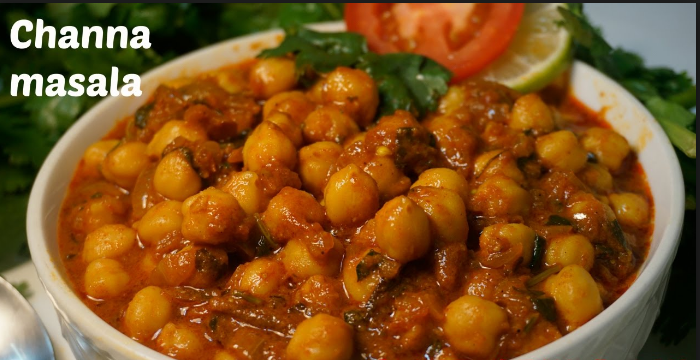 Chana masala
Preparation
time 9-10 hrs. Cooking
time 35 mins. Total
time 10, 35 hrs.Total
Calories 370 kcal.Total
fat 14 г.
It is Called chana masala or chole masala
Chana masala is best dish for kapha prakrtuti.
Serving- 4 people
Ingredients:
250 gm. chickpea
500ml water
1 tbsp. Himalayan salt
Next step prepare masala paste
5 kashmiri red chillies
5 medium size tomatoes -400 gm.
2 garlic chopped-or 10 gm. or 10 garlic cloves
8-10 gm. coriander seeds
15 ml oil sunflower
2-3 green chillies
1 cup water or as required
Salt as required around 0r around 5 gm.
½ tbsp. garam masala or as required
1-2 tbsp.p. chopped coriander leaves.
For garnish
1 inch ginger
1 medium onion
1 lime small
How to prepare chana masala:
Soak chana overnight and pressure cook
Rinse chana thoroughly in water and soak over night
Drain water from soaked chana
Add soak chana in pressure cooker and add 2 to3 cups of water (till they are covered in water)
Add 1 tbsp.p. of Himalayan salt
Pressure cook chana for 10 to12 whistles till the chana is tender and cooked well
Drain water from boiled chana
Making paste
Rinse 5 medium sized tomatoes and chop them into small pieces ( around 400 gm. )
Peel 7 to 8 garlic cloves
10 gm. ginger rinse and chop them and make paste.
Add masala of red Kashmiri chilli and add 2 tbsp. coriander seed and make paste
Measure and keep all ingredients ready for making chana masala
Next step
Heat 3 tbsp. oil in pan or kadai on low flame
Add the masala paste of chilli and coriander powder and mix well.
Stir often for 7-8 min till oil releases.
After that add water ½ cup of water if needed and 2-3 green chillies.
Mix all the ingredients and stir well, for 3-4 min on low flame.
Then add boiled chana and mix well with the rest of the masala, add more water for more gravy.
Cook the mixture for10-15 min on low flame.
If you want to thicken the gravy smash the chana/chickpea a little.
Once the mixture is cooked and mixed properly add garam masala and salt as required.
Cook for 5 min in the end for mixing well and add coriander leaves to garnish in the end.
2018-01-12