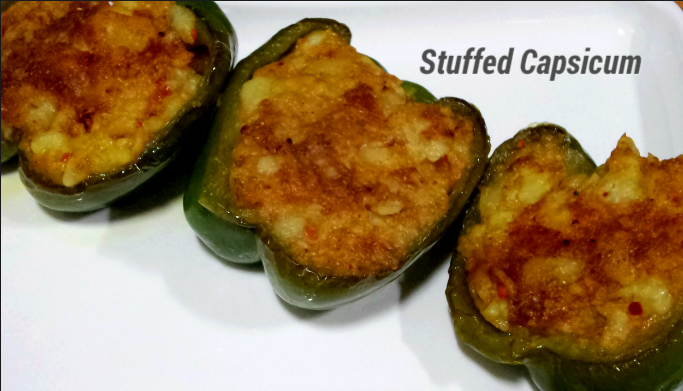 Stuffed Capsicum (bell pepper)
Preparation time 30 min. Cooking
time 25 min. Total
time 55 min.Total
Calories 258 kcal. Total
fat 14 gm./22%
Stuff capsicum is a homely dish liked by every one
It can be made with different stuffing like cottage cheese, besan/ gram flour, or potato.
Below are the details of making potato stuffed capsicum.
Stuff capsicum is very good for vata and kapha dominated personalities . it is always better to used this dish for lunch. People with sensitive stomach has to be careful with this dish. Winter and spring is good time to consume this dish. Not so good for summer and autumn.
Serving 2-3.
Ingredients:
4-5 medium to large shimla mirch (400- 500 gm.)
4-5 medium potatoes (400 gm.)
1 small onion or ¼ cup finely chopped onions.
1 green chilli chopped.
½ tbsp. cumin powder
¼ tbsp. turmeric
¼ tbsp. red chilli powder
½ tbsp. dry mango powder /or lime juice according to availability
½ tbsp. garam masala.
2 tbsp. fresh chopped coriander leaves
1 tbsp. oil (OPTIONAL LOCAL) for frying onions.
1-2 tbsp. oil for frying the capsicum.
Add salt as required (HIMALAYAN)
Making process of stuffed aloo simila mirch/ stuffed capsicum with smashed potatoes
First boil the potatoes till they are cooked tender, peel and keep aside.
Second slice the top of the capsicum.
Remove seeds of the capsicum.
Wash them.
Preparation of stuffing
Heat oil in small frying pan
Add cumin and chopped onions.
Fry onions till golden brown.
Add green chillies next.
Stir the above mixture and add ¼ tbsp. of each of the spices- turmeric, red chilli, and hing(asafoetida)
There after add smashed potatoes to the mixture.
Fry the potatoes for 2 min and add garam masala powder, dry mango powder, ¼ each.
Then add salt to taste.
Stir well and add the chopped coriander leaves 1 tbsp./5 gm. to the stuffing.
Mix all the potato spiced again and warm the mixture.
Keep till cool down.
Next stuff the capsicum with spiced potatoes.
Now bake or sauté in pan.
Heat oil in pan and place the stuffed capsicum in pan.
Cover the pan and allow the stuffed capsicum to cook on low flame.
Keep cooking for 5-10 min as required.
Keep changing sides of capsicum so all sides are cooked well,
It takes around 20-25 min for the capsicum to cook on all sides on low flame.
Garnish with coriander or mint leaves.
Serve with roti or naan.
2018-01-12